Part 1: Context, evidence and root causes for housing delivery in Oldham
The Housing Delivery Test (HDT) has been introduced by the Government as a monitoring tool to demonstrate whether local areas are building enough homes to meet their housing needs.
The HDT measures net additional dwellings provided over the past three years against the homes required over the same period.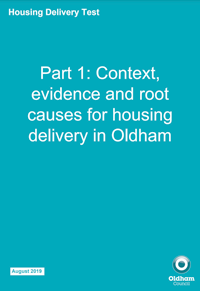 Part 2: Housing Delivery Action Plan
Part 2 of the Housing Delivery Test sets out the individual actions identified by Oldham Council to improve delivery, in order to ensure that the provision of a diverse Oldham Housing Offer that is attractive and meets the needs of different sections of the population at different stages of their lives.